5 Best Time Tracking Tools for Small Businesses and Companies in 2023
In today's fast-paced business world, effective time management is crucial for small businesses and companies to stay competitive. Thankfully, with the advent of time-tracking software, managing and optimizing time has become easier than ever. These innovative tools provide a comprehensive solution to monitor and analyze time spent on tasks, streamline workflows, and improve productivity. In this article, we will explore the five best time-tracking software options for small businesses in 2023.
Best for teams managing multi-project work and focused on increasing productivity and data protection.
Price: FREE Kimai server and a one-time payment of €3 for unlimited access to all features

First on our list is the Kimai Mobile Time Tracking App, a software designed specifically for your team. Kimai offers a user-friendly interface and a wide range of features that make tracking time effortless. The foundation of Kimai Mobile is the open-source software of Kimai for full transparency. Before you download the App, make sure you have the Kimai server installed. Additionally, you can analyze your company's efficiency across projects, clients, departments, and employees and add several workspaces with different Kimai Servers for multiple project time tracking. Moreover Kimai Mobile makes the protection of your data one of its top priorities as it follows GDPR (DSGVO) guidelines.
Key features
Offline Time Tracking: lets you track your time even when you're in areas with no internet connectivity. Your time entries are saved locally on your device and automatically synced when you regain internet access, ensuring accurate time tracking regardless of your location.
Bill clients: Track billable time and expenses, show clients how much you've worked, see how much you've earned, and create invoices.
Reports: Get statistical insights on how much and on which projects you've worked. Select the time frame for which you would like to receive the reports.
Manage Team: Track attendance for payroll and accounting, see who works on what, and manage workload among teams.
Reminder: Set a reminder for a certain time you want to work on a specific task. You will receive a notification once the time goal was achieved.
Calendar: Access any time window from the past and get a visually appealing display of your time-tracking entries.
Multiple languages: Kimai Mobile is available in English, German, French, and Spanish. Choose the language you feel most comfortable in.
Dark Mode: For all of the light-sensitive or design-conscious people out there: you can choose to view Kimai Mobile in Dark Mode. Switch between dark and light as you, please.
Click here to learn about how how the Kimai Mobile features help you and your team to manage your multi-project work efficiently and increase your daily productivity, to become better with every second.
Best for small teams who want to monitor time, expenses, invoicing, and payments seamlessly in a single tool.
Price: Starts at $11/month for paid plans, with a limited free option.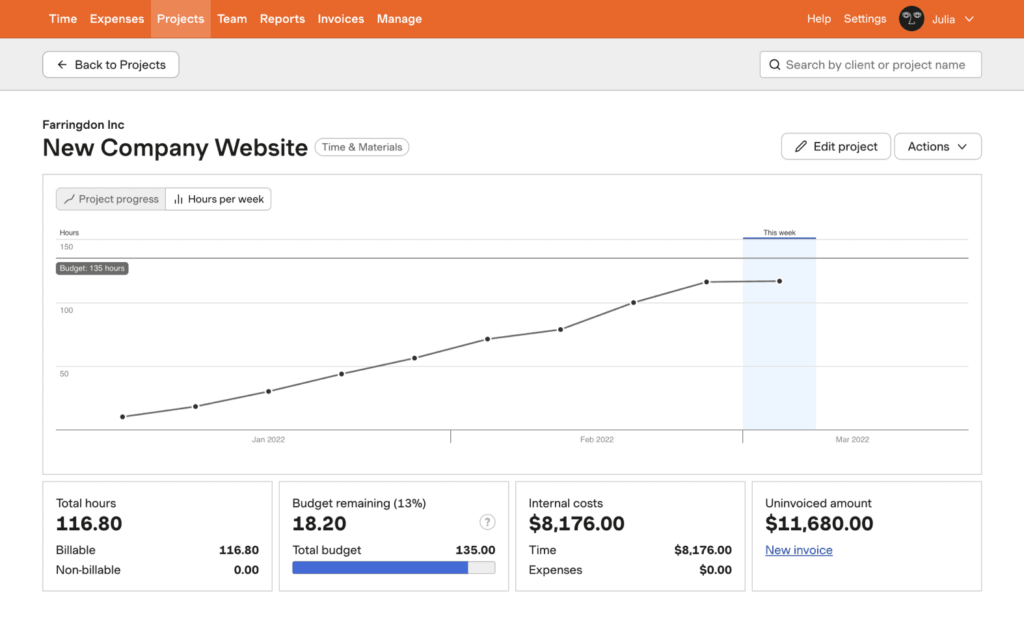 Harvest is another popular time-tracking software that caters to the needs of small businesses. It offers a comprehensive set of features, including time tracking, expense tracking, invoicing, and project management. Harvest provides detailed reports on project progress and team performance, enabling you to make data-driven decisions. Its user-friendly interface and seamless integration with other business tools make it a valuable asset for small businesses.
Key features
Several time tracking options: Seamlessly track time using the web app, mobile app, or Chrome extension for ultimate flexibility.
Team capacity insights: Gain visibility into your team's workload and easily identify who's nearing capacity, overbooked, or in need of additional assignments.
Simplified invoicing: Convert tracked time and expenses into professional invoices directly within Harvest. Streamline payments through integrations.
Extensive tool integration: Integrate Harvest with over 50 other tools, enabling your team to work seamlessly across your entire tech stack.
Automated reminders: Keep your team on track with automated reminders that promote time tracking and timesheet logging accountability.
Best for teams needing a timesheet app with scheduling and forecasting to manage workloads and keep projects on track.
Price: Starts at $4/user/month for paid plans, with a limited free option.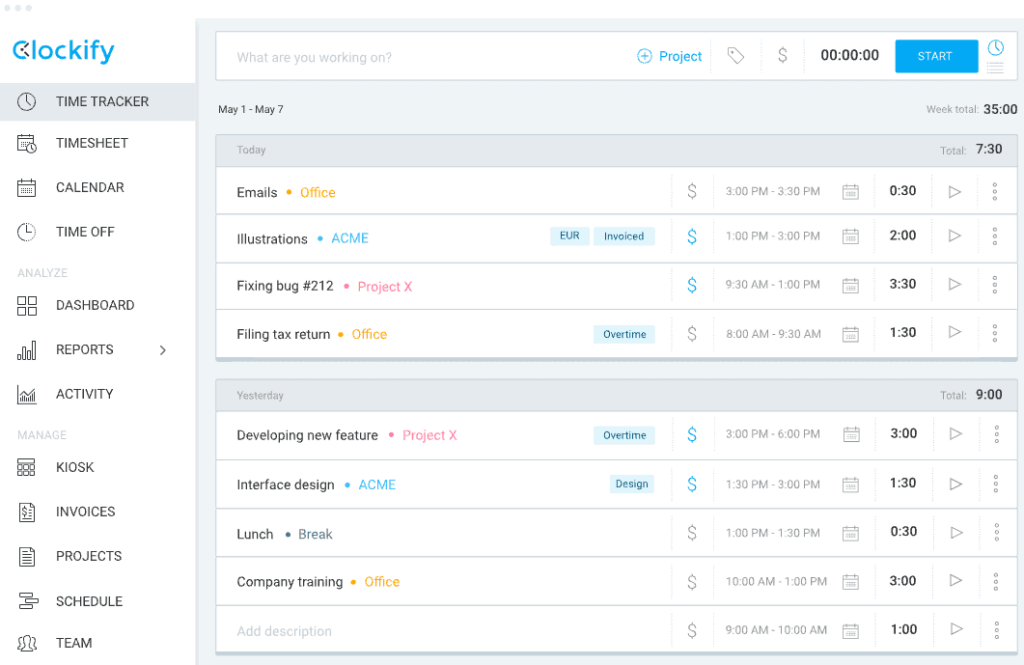 Clockify is a feature-rich time-tracking software that offers a range of capabilities suitable for small businesses. With Clockify, you can track time, manage projects, and generate insightful reports effortlessly. Its user-friendly interface and cross-platform compatibility make it a popular choice among small business owners. Clockify also offers integration options with other tools, enhancing its functionality and usability.
Key features
Automatic and manual timesheet population: Timesheets can be populated automatically based on tracked time throughout the week, or team members have the option to log time manually.
Visual performance comparisons: Manage team and project performance through visual comparisons of forecasted vs. tracked time, providing valuable insights into productivity and efficiency.
Project progress and performance tracking: Track current and forecasted project data to monitor progress and performance based on tracked time, enabling effective project management.
Employee bandwidth insights: Ensure projects stay on track and distribute work appropriately by utilizing Clockify's insights on employee bandwidth, preventing the overloading of team members.
Kiosk feature for shared devices: Seamlessly integrate with shared devices using the 'Kiosk' feature, allowing employees to easily clock in and out from a shared device, such as an on-site iPad.
Best for individuals and teams seeking a robust time tracking and productivity solution that helps them track project progress, analyze productivity, and streamline billing and invoicing processes.
Price: Starts at $7/month for paid plans, with a limited free option.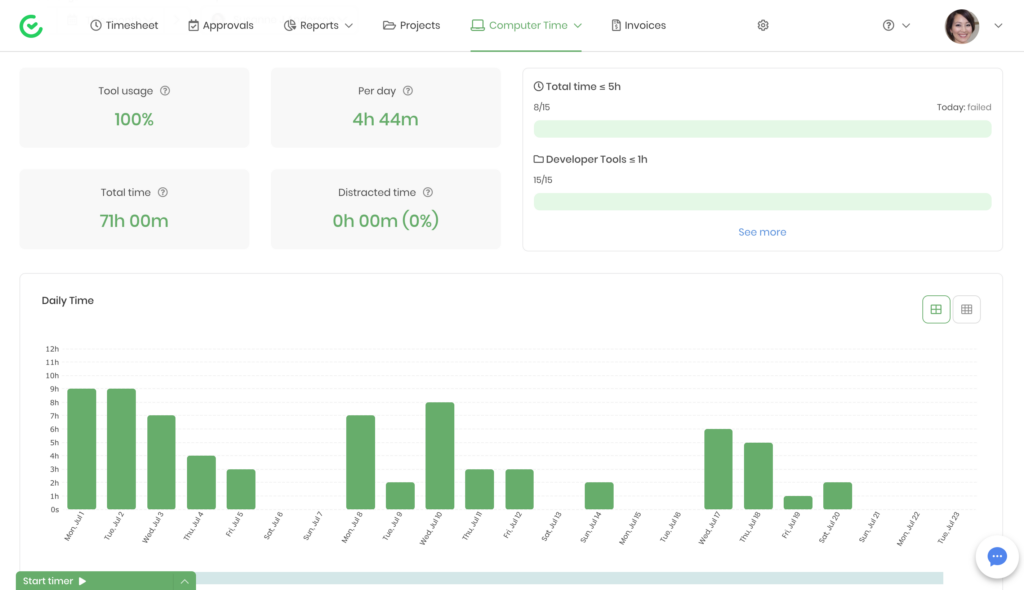 TimeCamp is a comprehensive time-tracking and productivity software that helps individuals and businesses monitor and manage their time effectively. It provides features for tracking time spent on various tasks, projects, and activities, as well as generating detailed reports and analytics.
Key features
Project Management: Create projects, assign tasks, set deadlines, and track progress. This feature helps teams collaborate efficiently and ensures projects stay on schedule.
Timesheets and Attendance: Users can create timesheets to record their working hours, log attendance, and manage leave and time-off requests. This feature is particularly useful for payroll and HR purposes.
Productivity Analysis: TimeCamp provides comprehensive analytics and reports that allow users to analyze their productivity patterns, identify time wasters, and make informed decisions for improving efficiency.
Billable Hours and Invoicing: Track billable hours accurately, generate invoices based on time entries, and manage client billing efficiently.
Integrations: Integrates with various project management tools, calendar applications, and accounting software, enhancing productivity and streamlining workflows.
Best for teams who want to automate time-tracking processes, workforce management, and productivity metrics.
Price: Starts at $6/month for paid plans, with a limited free option.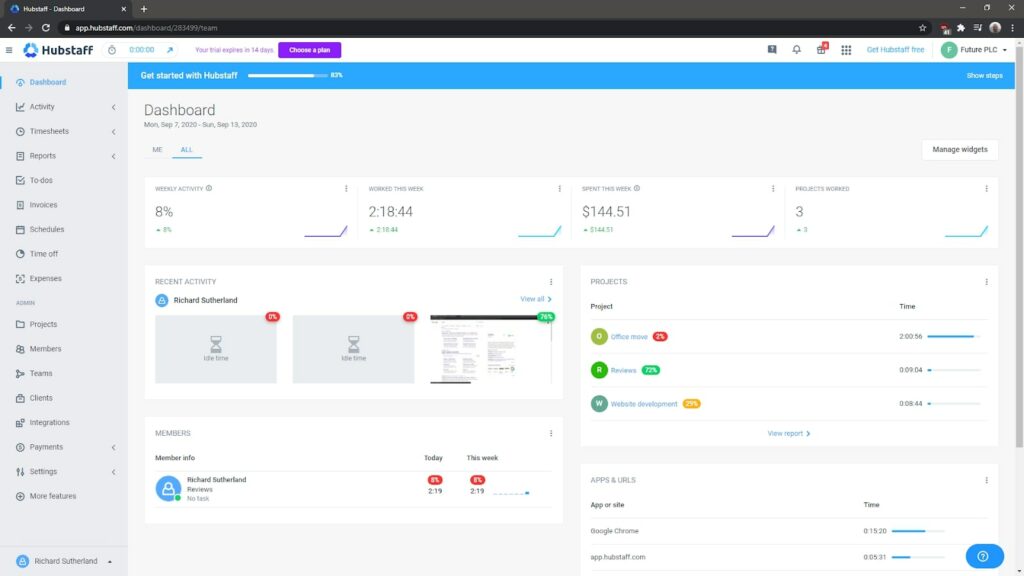 Hubstaff is a robust time-tracking software designed for small businesses with remote teams. It allows you to monitor time, track employee activities, and measure productivity effectively. Hubstaff offers features like GPS tracking, screenshot capture, and activity monitoring, enabling you to manage remote teams efficiently. Its comprehensive reporting and payroll integration make it an excellent choice for small businesses with distributed workforces.
Key features
Employee Monitoring: Employers can monitor employee activities, such as app and website usage, screenshots, and activity levels. This functionality enables businesses to ensure productivity, track work patterns, and identify areas for improvement.
Productivity Management: By offering insights into employee productivity through tracking activity levels, monitoring idle time, and generating reports on the app and website usage, businesses can gain a better understanding of work patterns, identify bottlenecks, and optimize productivity.
Project Management: With its project management features, encompassing task assignment, progress tracking, and collaboration tools, users can organize projects, set milestones, allocate resources, and closely monitor project timelines.
Payroll and Invoicing: Through seamless integration with popular payment and accounting platforms, businesses can experience streamlined payroll and invoicing processes, as Hubstaff automates payment calculations based on tracked time and generates comprehensive reports for efficient client billing and team member payments.
Remote Team Collaboration: Facilitating collaboration among remote teams, Hubstaff empowers efficient teamwork by offering features like team messaging, file sharing, and centralized project management, bridging communication gaps and enabling seamless coordination.
How to make a choice?
Considering all the options, how can you find the perfect tool that fits your time-tracking needs? For the businesses out there who want to prioritize data security, Kimai Mobile is an ideal choice for small businesses, companies, and remote workers. You can also conveniently manage time, set estimates, notes, and view reports from any location with ease. If you prioritize invoicing and project management you might want to go with Harvest. In case you're looking for employee monitoring and activity tracking, then Hubstaff must be a good fit for you. With Clockify you are offered a robust free plan and extensive customization options. Timecamp is an option to try out when your main focus relies on comprehensive time tracking and project management features. To find the right time-tracking solution, assess your goals, research available options, and evaluate key features.